2018 ROCKHAMPTON EXPO
Incorporating Rockhampton Home Show & Caravan, Camping, 4x4 & Fishing Expo
24th – 26th August 2018 | Rockhampton Showgrounds, Rockhampton QLD
The 2018 Rockhampton Expo (Incorporating Rockhampton Home Show and Caravan, Camping, 4×4 and Fishing Expo) is the regions largest and most successful event of its kind. This event continues to grow every year, with an estimated 180 local and regional businesses that will be on display in 2018. This event will feature products and services for our homes, lifestyle and outdoor living including awnings, bedding, builders, electrical, finance, garden, guttering, health, hardware, homewares, pools, spas, sheds, solar, tanks, tools and much more. The Caravan, Camping, 4×4 and Fishing Expo has grown to the largest ever to be held in the Rockhampton region. Visitors can expect to see the latest caravans, camper trailers, motorhomes, vehicles, 4×4's, fishing, camping gear and accessories. All of this in the one convenient location.
2018 ROCKHAMPTON EXPO COUNTDOWN
2017 EVENT STATISTICS
Statistic data received from polled 2017 exhibitors and visitors who subscribed to the event newsletter.
Australian Events produced 17,000 full colour Event Directories, with 11,000 which was inserted into the Morning Bulletin and distributed throughout the Rockhampton Region prior to the event. A further 6,000 copies of the Event Guide were printed and handed out to attendees at the entrance to the event.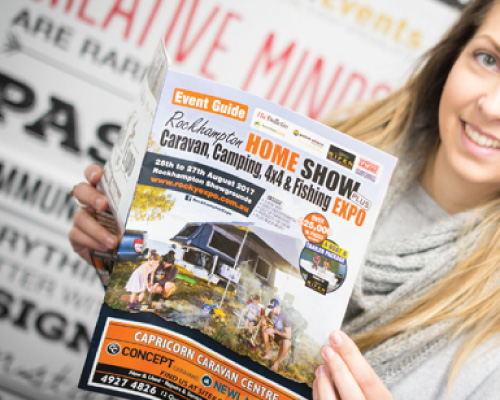 REQUEST YOUR EXHIBITOR INFORMATION PACK

Is this event important to the promotion of your business?
How happy are you with the sales and leads you received from this event?
How would you rate the promotion of this event?
How successful was the event for your company?
Successful – Very Successful

70%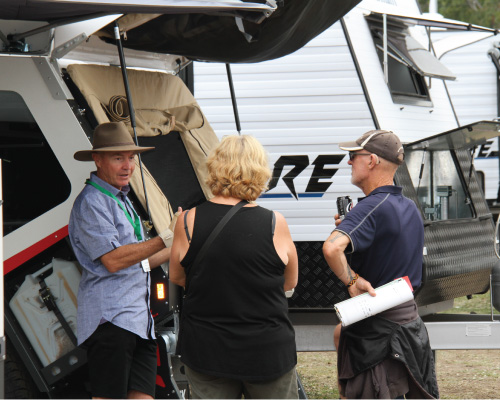 Our sales person at Australian Events is Linda. She rang to tell us that she was moving our site to an area closer to the main entrance. At first I had doubts about the location but those doubts were quickly forgotten early on the first day. By midday Saturday we had completely run out of brochures which was very much unexpected. Overall a TERRIFIC result. Thank YOU Linda, Thank You Australian Events – Bob, Saul & Aly
A very successful show. The advertising in the Event Guide in the newspaper works so well for us. Research by the customers have been done prior to attending the show. Thank you to all the team.
As a Regional Tourism Body, we were there to promote the Fraser Coast to the Rockhampton Region. For us, it was about conversations and the amount of our Promotional material we give away and the Rockhampton Show was on par with the Melbourne Super Show, with the number of our Regional Holidays Planners we gave away…
We had a number of inquiries during the 3 days of The Rockhampton Home Show Event, which have turned into positive leads. Our new customers were able to see and experience the value of our products during this event.
We love attending Australian Events Expo's. Always extremely well organised and the staff are always willing to help with a smile. Our site right across from the fishing show was excellent. Can't wait to head back next year.
Paint Place CQ was able to be part of the Rocky Home Show as event sponsor of the DIY Stage. We were able to demonstrate to our potential customers our products and services during the DIY Presentations. Australian Events runs an extremely well organised and professional event which caters for the exhibitors and attendees requirements very well. Paint Place CQ will certainly be involved in the 2018 event.

How would you rate this year's event?
Did make any purchases at this event?
Do you intend to make a purchase at a later date from an exhibitor you saw at this event?
Are you likely to attend the event next year?
REQUEST YOUR EXHIBITOR INFORMATION PACK
MAIN PRODUCTS OF INTEREST
Camping Equipment & Accessories

67%

Caravans

53%

Camper Trailers

27%

Auto Accessories & Parts

24%

Electronics & Communications

22%

Motorhomes & Campervans

18%

Outdoor Living

18%

Solar Energy & Heating

18%

Boats & Fishing Accessories

16%

Homewares

16%

Adventure & Sporting Equipment

13%

Vehicles, Utes & 4×4's

11%

Tourism & Holiday Destinations

11%

Tyres & Wheels

9%

Health, Wellbeing & Lifestyle Products

7%

Clothing & Apparel

7%

Tanks & Water Storage

7%

Trailers & Towing Equipment

4%

Gardening & Landscaping

2%

Builders & Contractors

2%

Garages, Patios & Sheds

2%

Pools, Spas & Accessories

2%

Renovations & Accessories

2%
A great range of products and laid out for easy comparison.
We loved the variety of goods and services available and also the demonstrations, learnt a lot this year.
Great event good to see the exhibiters going to so much trouble with their set-ups.
Went to dream about caravans and ended up buying one.
My sister and I make this our yearly thing to do together. We had a great time. Came home with heaps of information on what I was looking for.
My wife and I went to the expo with the intention of purchasing a camper trailer for a reasonable price and found one we both liked at an excellent price. Thanks to Blackseries Campers, we came away with a bargain.
EMAILS SENT OUT TO SUBSCRIBERS
Our popular Email Newsletter Club consists of patrons who have joined to receive information about the event. Featured exhibitors, list of exhibitors, Entertainment, Competitions and Prizes were continually promoted within these emails sent out daily and weekly leading up to the event.
JOIN OUR EVENT NEWSLETTER!
Stay up to date with event information PLUS go into the draw to win family passes to the event and more!
WEBSITE STATISTICS
From 20th to 27th August 2017
REQUEST YOUR EXHIBITOR INFORMATION PACK